Measure out your rice and glutinous rice and combine them in a strainer. Wash the rice until the water runs clear or the starchy residue will make the final dish sticky and gummy. Let the rices soak in water to cover for at least 30 minutes. Drain just before ready to use. (The combined rices will have swollen to nearly a cup by now and will be snowy white.)
Remove the innards of a squid, reserving its legs but discarding the intestinal tract and ink-filled "sac." Remove the cartilage from inside the body; leave the tail "flaps" intact. Rinse the body well inside and out but leave the skin on and pat the squid dry. Now repeat this entire procedure for the other 3 squid.
Trim off the suction cups from the legs. Coarsely chop the legs (there should be about 1 cup in all). Loosely fill each squid with rice until three-quarters full, then stuff in one-quarter of the chopped leg pieces and close each sac with a toothpick. (The legs act as a plug to keep the rice from falling out.) If you like, make shallow decorative slits on the body.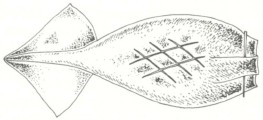 In a pan just barely large enough to hold the 4 squid (they shrink quite a bit with cooking) combine the ingredients for the cooking liquid. Lay the 4 stuffed squid in the pan and simmer on the lowest flame possible for 1½–2 hours, adding a bit more water if it looks in danger of scorching. Use a dropped lid if you have one, or if not, ladle the simmering liquid frequently over all surfaces. Whether you're using a dropped lid or not, turn the stuffed squid about every 30 minutes or so. Let the squid cool to room temperature in the pan. Remove all toothpicks and slice each squid into 5–6 rounds. If you prefer to eat your squid warm, wrap each in foil and steam for 2–3 minutes.