Quickly blanch the slices of fried bean curd in boiling water to remove excess oil. Drain the slices and pat them dry with paper towels. While they are still warm, cut each slice in half, across its width. Place a slice of the bean curd on the open palm of one hand and slap down on it with the other. From the cut edge, gently pry open the fried bean curd to form a deep pocket or bag. Repeat this slap-and-pry procedure for each of the remaining pieces.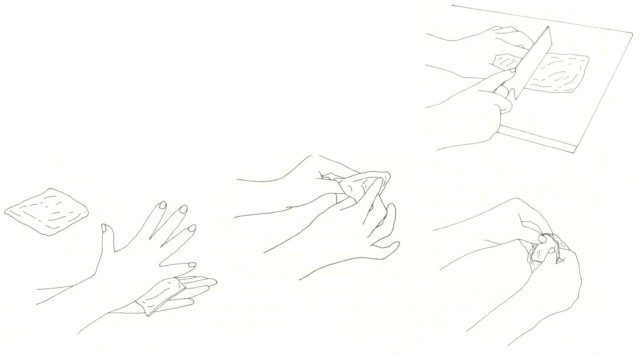 Cover the dried mushrooms for 15–20 minutes with warm water to which a pinch of sugar has been added. Reserve the mushroom liquid for use in the simmering stock. Rinse the mushrooms under cold water, squeeze them dry, remove and discard the stems, then slice into extra fine julienne strips.
Drain a small can or bag of gelatin-like noodles (it will measure about 1 cup). Cut them into approximately 2-inch lengths and blanch them for 1 minute in rapidly boiling water. Drain, and allow the noodles to cool to room temperature naturally.
Cover the dried gourd strips with warm water to which a pinch of sugar has been added. Allow at least 10–15 minutes for the gourd to soften. Rinse the softened strips under cold water with a slight scrubbing motion and squeeze them dry.
Combine sliced mushrooms, cooled noodles, julienne carrots, chicken meat and peas in a large bowl. Stuff each fried bean curd with one-twelfth of this filling (1). Gather-up the open end of each bag and tie it closed with a ribbon of gourd (2–4).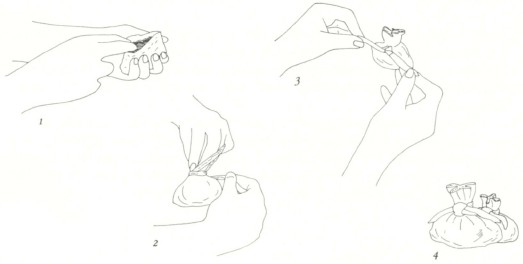 Make the simmering stock in a deep saucepan that is wide enough to hold all the bags in a single layer. Combine the mushroom liquid and basic stock and heat through before seasoning with the soy sauce, sugar and rice wine. Add the bags, ties facing up, to the simmering stock. For best results simmer, covered with a dropped lid. Or simmer uncovered but frequently ladle the stock over the bags as they cook. Simmer for 12–15 minutes over medium heat. If the ribbons of gourd are still white, turn the bags upside down and simmer for 3–5 more minutes. Serve the Treasure Bags warm, or at room temperature, with a bit of the stock ladled over each. These bags can be prepared up to 2 days in advance. Refrigerate but never freeze the cooked bags and reheat them in the stock just before serving.