Peel away a few of the outer leaves of the shoots and rinse to remove any soil (1). Cut each top slightly on the diagonal (2), and trim the base of each straight across (5). Slash each shoot lengthwise, but do not cut in deeply (4).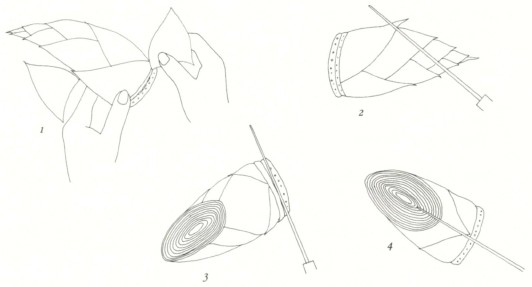 Place the bamboo shoots in a saucepan with the water, rice-bran powder and red hot pepper. Bring the water to a boil, then reduce the heat to maintain a steady simmer. Cook the shoots for 45–50 minutes, or until a wooden pick passes easily through the thick core. Let the shoots cool to room temperature in the liquid. Now peel away and discard all the outer leaves and with a knife trim off any large pebbly bumps at the base of each shoot.
Fresh-boiled bamboo shoots should be stored in cold water to cover in the refrigerator. Change the water every day. They will maintain maximum flavor for the first 2 days, but won't spoil for 5 or 6.