Sprinkle the salt over the oysters and let them stand for a few minutes before rinsing them with cold water. Pat the oysters dry and marinate them for 2–3 minutes each in first the saké, then the soy sauce.
For every 6–8 oysters you will need 2 very sharp, thin skewers (metal are preferable, but if you are using bamboo, soak them in cold water for 15 minutes beforehand). First skewer the hard, muscular end of each oyster, then run a parallel skewer through the soft belly.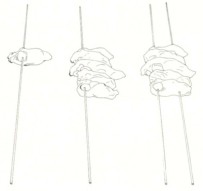 Grill or broil the oysters for 1–2 minutes, twirling the skewers frequently to prevent sticking. Turn once halfway through. They should be cooked through, but still juicy. Remove the oysters from the skewers immediately.
Dry roast a sheet of laver and crumble it in a dry cloth, then sprinkle over the oysters. Serve warm or at room temperature with lemon wedges.