Trim the fillets into 6–8 slices, each measuring about 4½–5 inches in length. Take 2 slices of the same length and arrange them skin side down next to each other on your board. Insert 2 or 3 skewers as illustrated. Repeat the skewering procedure for the remaining fillets.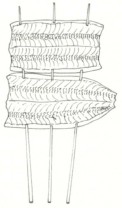 Inside a steamer, stand the skewers at an angle so that the eel does not touch the sides or bottom rack of the pot. Steam the eel for 10–15 minutes (the longer time for those who prefer their eel very tender). Remove the skewers and grill or broil the eel several inches from moderately high heat until the skin and flesh begin to color (about 5–6 minutes). Remember to twirl the skewers from the start to prevent sticking.
In the meantime, combine the ingredients for the glazing sauce in a small saucepan, and cook for 3–4 minutes, stirring.
With a pastry brush, paint the glazing sauce lavishly on both sides of the grilling eel. Continue to cook for 8–10 more minutes, glazing the eel with more sauce every minute or so and flipping the skewers frequently. Remove the skewers immediately (twirl the skewers as you remove them to keep the eel from falling apart) and sprinkle the flesh side with Japanese pepper.