In a small saucepan, combine the basic stock, sugar, soy sauce, rice wine and salt and heat, stirring, until the sugar and salt have dissolved. Let the sweet stock cool to room temperature.
In a bowl, beat the eggs well, but try not to incorporate any air as you do so. Pour in the sweet stock and stir to blend together.
Traditionally, this omelet is made in a rectangular pan called a tamago yaki nabé. If you have only a round 6–7-inch pan, it is possible, with effort, to shape a square as the omelet cooks; or cut the completed rolled omelet into slices.
Lightly oil your pan and pour in one-fourth of the seasoned egg mixture, tilting and rotating the pan to ensure an even coating. Cook the omelet over medium to medium-high heat for a few moments or until the eggs are barely set. Prick any air bubbles with a chopstick if necessary, while the egg is cooking. Fold the omelet and lightly oil the pan around it. Slide the omelet to a different part of the pan and lightly oil again. Before pouring in any more egg, push the omelet to the back of a rectangular pan or the center of a round one. Pour in a third of the remaining egg, lifting (1) the already set omelet lightly to allow the new layer of egg to run under it. Cook for a few moments until barely set (2) and fold again (3).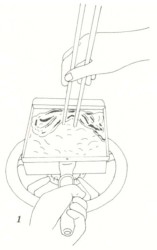 Make 2 more layers in the same manner, being particularly careful with the last folding as this determines the shape of the final dish. Once the block has been made, cook it for a few moments longer on all sides to caramelize the sugar. Turn the block out onto a flat surface and let it cool before cutting it into 8–10 small blocks.
The traditional presentation at table is 2 blocks of omelet on each individual flat dish, garnished with a small mound of grated radish. The radish should be drained of excess liquid after grating, formed into a mound and then barely colored by drizzling a few drops of soy sauce over the top. Spread a bit of radish on the sweet omelet as you're eating.