Fillet the fish and lightly salt it. Let the fillets stand for 5–10 minutes (the salt will cause the fish to "sweat" a bit) then gently pat away any accumulated moisture. Slice the fish very thin and slightly on the diagonal. Chill until serving time.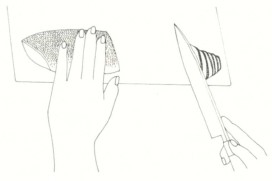 Rinse the shiso leaves under cold water, and one at a time pat them dry. Then lay a single leaf on the palm of your open hand and slap it with your other open hand. This will release the leafs unique aroma. Place a single leaf on each of 4–6 small plates. Peel the radish, then cut it kaminari style. Arrange some curly radish strips in a mound behind each shiso leaf.
Arrange the fish slices to make a small mountain in the center of each leaf. To the side of each "mountain" place a dab of horseradish (if you can coax it into a "hill" shape, all the better). In separate individual small plates with flanges put 1 tablespoon of soy sauce for each person. At the table, each person dissolves some of the horseradish in the soy sauce, then dips the fish lightly in it before eating.