Combine the bean paste, sugar and rice wine in a small saucepan and stir until smooth. Cook the sauce, stirring frequently, for 2–3 minutes over medium heat.
Remove skin and bone from the chicken breast and trim off the fat; chop the meat to a fine dice. Add the chopped chicken to the bean paste sauce and cook, stirring often, for 2–3 minutes over medium heat. The sauce will thicken and the chicken will turn white. (This sauce can be made several hours in advance and reheated just before serving.)
Wash and pat dry the eggplants before slicing them in halves lengthwise. Slice off just enough of the rounded bottom of each piece to allow the eggplant to lie flat. Save a few of these slivers for testing the readiness of the oil for frying. Score the cut surface, shallowly around the rim and more deeply toward the center of each half.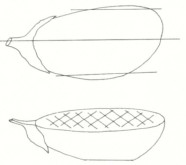 Heat the oil to approximately 325 degrees F. Test-fry one of the eggplant slivers. Small bubbles should appear within a few seconds and the eggplant should float on the surface of the oil. Deep fry each of the eggplant pieces, skin side down, for 1–2 minutes. Flip the pieces over and continue to fry for 3–4 more minutes. The cut surface of the eggplant should be golden brown and the flesh beneath it tender. (You can test this by inserting a wooden toothpick.) Drain the fried eggplant well.
Serve each eggplant half napped with some of the warm chicken and bean sauce. Sprinkle a pinch of Japanese pepper over the sauced eggplant and garnish with a sprig of parsley.