Peel the radish and slice it into julienne strips. Rinse, pat dry and chop fine any green stems and leaves from the radish. Wash and pat dry the cucumber or zucchini and slice it on the diagonal, then into julienne strips. Scrape the carrot, and cut it into fine julienne strips. Slice the lemon peel into thin slivers. You should have about 2½–3 cups vegetable and fruit peel strips. Put the vegetables and lemon peel into a large bowl and sprinkle the salt over all.
Let stand for a minute before lightly squeezing to release liquid. Transfer the wilted vegetables and brine to a small pickling tub, lay a flat lid or plate over them and apply 8–10 pounds of pressure distributed as evenly as possible over the surface. It may take up to 5 hours for the brine to rise above the lid. Once the brine partially covers the weights, let the vegetables pickle for 4–5 hours. Reduce the pressure by half, and let the pickles mature for another hour or two.
Or use a screw-type device and secure the lid very snugly. As the vegetables wilt and brine is formed (about 3–4 hours) tighten the screw snugly again. Let the vegetables pickle for 3–4 hours, then loosen the screw slightly. Let the pickles mature in their brine for another hour or two.
Either way, refrigerate in the brine for up to three days any pickles not to be eaten that day. Just before serving, lightly rinse the pickles under cold water and squeeze dry. Serve with a few drops of soy sauce.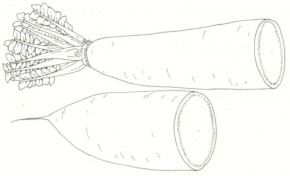 Commercially Prepared Pickles
Some pickling processes are rather complicated or require considerable time and effort. And some Japanese pickles are regional delicacies with their "secrets" carefully guarded.
Nara-zuké ("pickle of Nara, " a culture center near Kyoto) is a fine example: they take several years to reach maturity after being placed in a pungent malty yeast paste that is difficult to make. Traditionally, shiro uri (a zucchini-like vegetable native to the area) and small, round eggplants are pickled in this manner. In Japan, Nara-zuké are sold in wooden tubs, though in the West you will most likely see them packaged in vacuum-sealed plastic bags. After breaking the seal, refrigerate any pickles that are not eaten that day. They will keep for several weeks. A plastic container with a tight-fitting lid is good for storage. Just before eating Nara-zuké pickles, rinse off any excess pickling paste and towel dry the vegetables. Cut in thin slices or chop to a coarse dice. Since these pickles are very aromatic, they are best enjoyed with bland foods such as steamed fish and hot white rice.

Takuan (yellow pickled radish) are distinctive pickles to be found in many parts of Japan. Ranging in color from pale gold to bright yellow, takuan are crisp and pungent. They make a colorful highlight to an otherwise earthy-toned meal, and they contrast well with fried foods. Packaged in vacuum-sealed plastic bags, the radish should be refrigerated once the seal has been broken. It will stay fresh for about 1 week. Just before eating, rinse the takuan in cold water and pat it dry. Slice in half lengthwise and then into half moons ¼ inch thick.

Sakura-zuké ("cherry-blossom" pickles) are made from thin slices of daikon, or Japanese white radish. Salted and pickled, then tinted a pale pink with aka-jiso (a leaf and berry) and seasoned with sweet syrupy wine, sakura-zuké are crisp, colorful and mild. Packaging and storage are the same as for takuan, above.

Shiba-zuké are a bright purple assortment of pickled cucumber, eggplant, ginger and myōga (a root vegetable native to Japan). Kyoto is famous for making these piquant pickles. Even in Japan they are most likely to be packaged in vacuum-sealed plastic bags. Storage suggestions are the same as for the other pickles described above; shiba-zuké will keep for several weeks. Just before eating, rinse off the vegetables and discard the wrinkled dark leaves (these are aka-jiso, which provide the unique color and flavor to these pickles). Chop shiba-zuké to a fairly fine dice. They are very good with sushi and other seasoned rice dishes.

Hiroshimana-zuké are made from a deep-green leafy vegetable similar in flavor to collard greens. They are pickled in a salty brine in much the same way homemade salt pickles are. The Hiroshimana-zuké, found in most Oriental groceries in the United States, are made on the premises from local produce (either greens resembling the original are substituted or the "real thing" is grown from imported seeds). Most that I've sampled have been excellent, with a truly authentic flavor. Hiroshimana-zuké make a delicious contrast to braised foods. They will keep for 4—5 days if refrigerated in their original brine. Rinse off the leaves just before eating and chop fine, or cut into ½-inch lengths and align them to form a bundle. You may wish to pour a few drops of soy sauce over the pickles.

Béni shoga (red pickled ginger) is readily available in the West. Packaged in chunks, slices and julienne slivers, béni shōga will last for months if refrigerated in its original brine after opening. The color is the result of a natural food dye, called shoku béni, not the feared A–2 red dye. Drain off excess brine just before serving. Red pickled ginger goes well with seasoned rice and noodle dishes.

Amazu shoga (pink pickled ginger) is also available at most Oriental groceries. Thin slices are packaged in vacuum-sealed bags and, like red pickled ginger, it will last for months if refrigerated in its own brine after opening. The color is completely natural—caused by a chemical reaction when marinating blanched yellow ginger in a sweet and sour brine. Drain the slices of excess brine before serving. Amazu shoga is the traditional accompaniment to sushi (vinegared rice dishes) and also provides a mouth-refreshing touch with grilled fish or poultry.