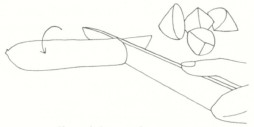 Wash and peel the potatoes, or scrub the skins very well and leave the potatoes unpeeled, then cut them in half lengthwise. Cut the long pieces into oblique shapes about 1½ inches long. Soak them in a bowl of cold water for 10 minutes, then carefully pat dry.
Fry the potatoes in deep oil at a medium temperature (approximately 350 degrees F.) until tender and lightly colored. Test a piece or two by piercing with a toothpick—there should be no resistance. Drain the potatoes well.
In a small saucepan, combine the sugar, water and soy sauce and heat the mixture, stirring constantly. Cook the bubbly syrup a few minutes or until it is about 245 degrees F. Check the temperature with a candy thermometer or make a simple cold-water test (when a little syrup is dropped into a bowl of cold water it should form a firm but pliable ball). Dry roast the sesame seeds and add them to the syrup.
Arrange your work space so that the fried potatoes, hot syrup, chopsticks or tongs, bowl of ice water, slotted spoon and a lightly oiled serving platter are all ready and within easy reach. From here on swift action is required. Add the potatoes, a few at a time, to the hot syrup and coat them quickly and thoroughly. With chopsticks or tongs, immediately lift the pieces out of the syrup, one at a time, and plunge them into the bowl of ice water. With a slotted spoon, quickly remove them from the water and transfer the candied potatoes to your serving platter. For fullest enjoyment, eat them within 15-–20 minutes.