Preparation info
Serves

2 to 3

as a Main Course .
Appears in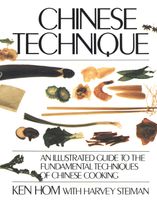 Ingredients
3 tablespoons peanut oil
4 Chinese eggplants, or 1 large eggplant</
Method
stir-frying, braising
Heat the wok, then heat the oil in it over a high flame. Stir-fry the eggplant pieces to coat them with oil. Add the garlic, ginger, scallions, and then the broth mixture. Mix well and let the mixture cook, stirring it occasionally to keep the pieces of eggplant from sticking.