Preparation info
Serves

4

as a Main Course .
Appears in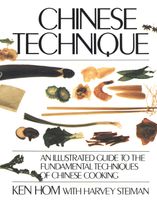 Ingredients
2 cups dark soy sauce
2 cups light soy sauce
½ cup
Method
Red-Cooking
Turn the chicken several times in the sauce while it simmers so that it colors evenly. Simmer for 20 minutes, then turn off the heat and let the chicken steep in the spices for 1 hour. The liquid can be saved and reused.