Preparation info
Serves

4 to 6

as a Main Course.
Appears in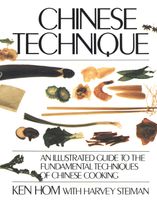 Ingredients
2 pounds fresh side pork (uncured bacon) or pork belly (if side pork is unavailable, boneless shoulder can be used)
2 slices fresh ginger root
Method
Twice-cooking
Put the piece of meat in a pot with the ginger and enough water to cover. Simmer 1 hour(30 minutes for pork shoulder).

Drain the pork, let it cool, and cut it lengthwise into 1½-inch pieces. Pat it dry.