Preparation info
Serves

2 to 3

as a Main Course.
Appears in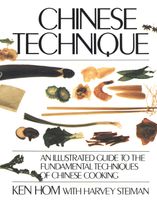 Ingredients
1 whole fish, about 1½ to 2 pounds, cleaned and scaled
Water chestnut powder or cornstarch
Method
Deep-frying, braising
Set the fish on a cutting board belly up. With the blunt end of a cleaver, hit the fish a few times to crack the bones along the stomach. This makes it easier to serve the cooked fish right side up instead of on its side.