Appears in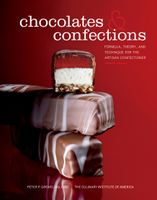 Method
Combine the cream, glucose syrup, and almond paste in a saucepan. Bring to a boil, stirring to break up the almond paste.
Pour the hot cream mixture over the chopped milk chocolate and let sit for 1 minute to allow the chocolate to melt.
Using a spoon or spatula, stir the mixture in vigorous small circles in the center of the bowl until it emulsifies.