Appears in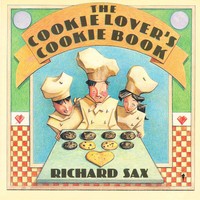 Ingredients
Butter Cookies Deluxe
1 cup (2 sticks) unsalted butter, softened
1 cup sugar
1 teaspoon pure vanilla extract
2 eggs
2 cups flour
Method
Butter Cookies Deluxe: In an electric mixer, cream the butter and sugar at medium speed until very light, 3 to 5 minutes. Add the vanilla, then the eggs, one at a time. Lower the speed and add the flour, mixing just until well blended, no longer. Chill overnight, or at least 4 hours.
Preheat the oven to 350°F. Lightly butter four baking sheets (or sheets of foil). Divide the dough in quarters. Place one portion of dough on a lightly floured surface, keeping the remainder refrigerated. Roll out the dough to a thickness of ¼ inch. Cut out 2-inch circles with a fluted or plain cookie cutter dipped in flour. (Alternatively, you can cut the dough into rectangles, using a fluted pastry wheel.) Place the cookies on the baking sheets, spacing them about 1 inch apart. Repeat with remaining dough, and reroll chilled scraps.
Bake the cookies until the edges are light golden brown, 7 to 8 minutes. Transfer to a wire rack to cool completely.
Whipped Ganache Fudge Filling: Bring the cream to a boil in a heavy saucepan. Add the chocolate and remove the pan from the heat. Let the mixture stand briefly; then stir until smooth. Transfer to a metal bowl and chill thoroughly, stirring once in a while. (If you'd like to hasten the process, place the metal bowl in a larger bowl of ice water; stir the chocolate mixture until cool.) With a whisk or an electric mixer, whip the chocolate mixture just until fluffy, about 1 minute; do not overwhip, or it will separate.
Assembly: Spread half the cooled cookies (on their flat, bottom side) with the chocolate filling, using a small spatula and about 1 tablespoon of filling for each cookie. Top each filled cookie with a plain cookie, pressing fiat bottom lightly onto the filling. Chill briefly to set the filling slightly; then serve at cool room temperature. In warm weather, these cookies should be refrigerated; remove from the refrigerator a few minutes before serving.