Appears in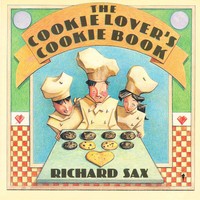 Ingredients
½ cup (1 stick) plus 2 tablespoons cold unsalted butter, cut In-pieces
1¼ cups flour
1¼ cups regular or quick-cooking oats (not Instant oatmeal)
1 cup (packed) light brown sugar Pinch of salt
¾ cup (generous) black currant, raspberry, or other dark Jam
2 tablespoons crème de cassis, raspberry liqueur, or brandy
½ cup chopped almonds
Method
Preheat the oven to 375°F. Generously butter an 8-inch square baking pan; set aside.
In a food processor, combine the butter, flour, oatmeal, brown sugar, and salt until crumbly (if you don't have a processor, cut the ingredients together with two butter knives). Press about two thirds of this mixture into the bottom of the pan.
In a small bowl, stir together the jam and the liqueur. Use a spoon to spread the jam mixture very gently over the bottom oatmeal layer. Stir the almonds into the remaining third of the oatmeal mixture; scatter this evenly over the jam. Very gently press the top layer smooth.
Bake until set and golden brown, 40 to 45 minutes. Cool the pan on a wire rack. When completely cool, carefully cut the mixture into 1-inch squares. Store airtight.