Appears in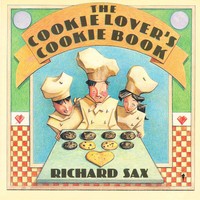 Ingredients
1¼ cups walnuts (about 4 ounces)
1½ cups flour
⅓ cup granulated sugar
⅓ cup light brown sugar
¾ cup (1½ sticks) unsalted butter, softened slightly
½ teaspoon pure vanilla extract
¾ cup coarse-chopped walnuts (about 2 ounces)
Method
Place the 1¼ cups walnuts in a food processor with the flour and granulated sugar and process, pulsing the machine on and off, until the nuts are finely chopped. Add the brown sugar, butter, and vanilla; pulse the machine just until the dough comes together. It will be quite soft.
Divide the dough in half; wrap each portion in plastic wrap and form into a cylindrical shape. Twist the ends shut, pressing the dough toward the center of the roll to eliminate air pockets. Smooth the dough into neat rolls about 1½ inches thick. Chill the rolls for about 1 hour. Gently unwrap the rolls and coat the surfaces with the chopped walnuts, pressing them in gently. Re-wrap and chill until very firm, at least 2 hours.
Preheat the oven to 300°F. lightly butter two baking sheets. Cut the dough in ¼-inch-thick slices. Place the cookies on the baking sheets, spacing them about 1 inch apart. Bake until golden, 10 to 12 minutes. Cool the cookies for a few minutes on the baking sheets; then very carefully transfer them to a wire rack and cool completely. (These cookies are fragile.) Store airtight.