Appears in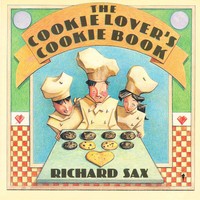 Ingredients
1¼ cups whole hazelnuts, with skins (about 5 ounces; other nuts can be substituted)
1¼ cups flour
½ cup plus 2 tablespoons sugar Pinch of salt
10 tablespoons (1 stick plus 2 tablespoons) unsalted butter, melted and cooled slightly
Method
Preheat the oven to 350°F. Butter and flour two 8-inch round cake or tart pans; set the pans aside.
Place the hazelnuts, flour, sugar, and salt in a food processor and pulse the machine on and off until the mixture is powdery. Pour in the butter and continue to pulse the machine until the mixture is well blended.
Divide the mixture evenly between the prepared pans, pressing it smooth. With a sharp knife, cut each round of dough into 12 wedges. Bake until the mixture is set and very pale tan, 20 to 23 minutes (do not overbake). Place the pans on a wire rack. While the shortbread is still warm, cut through the wedges again; cool slightly.
Choose a plate or paper plate slightly smaller than the cake pans; place the plate directly on the surface of each round of shortbread. Carefully invert the shortbread onto the plate.
Chocolate Glaze: Melt the chocolate and the vegetable shortening in the top of a double boiler, stirring occasionally, until smooth and glossy. Remove from heat; transfer to a paper cup or deep, narrow measuring cup (deep enough to dip the wedges in.)
Dip the tip of each wedge into the warm chocolate, coating it about halfway, and letting excess chocolate drip back into the cup. Place the dipped shortbread, right-side-up, on a wire rack over a sheet of wax paper. Cool until set.