Preparation info
Makes about

5 dozen

cookies
Appears in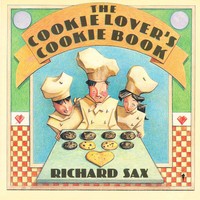 Ingredients
1 cup (2 sticks) unsalted butter
¾ cup sugar
2 teaspoons pure vanilla extract
2 cups flour
1 teaspoon baking powder
30 to 35 blanched almonds, separated in halves
Method
Butter two baking sheets; set aside. Melt the butter in a small heavy skillet, then cook until lightly browned, about 15 minutes (timing can vary). Watch carefully; don't let the butter get too dark. Transfer the browned butter to a small mixing bowl; stir in the sugar. Place the bowl in a larger bowl of ice water; stir the butter mixture until cooled and nearly, firm.
Preheat the oven to 300°F. In an electric mixer or by hand, cream the butter mixture until light; add the vanilla. Meanwhile, sift the flour and baking powder together; add this mixture to the butter, mixing just until the ingredients are blended.
Roll rounded teaspoonfuls of the dough into uniform balls. Place on the baking sheets, spacing the balls 1 inch apart. Gently press an almond half into each ball. Bake the cookies until set and pale gold, about 20 minutes.
Transfer the cookies to a wire rack to cool completely; then store airtight.