Appears in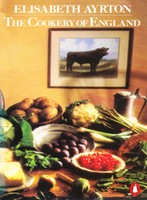 Ingredients
8 oz. (240 g.) long-grain (Patna) rice
6–8 oz. (180–240 g.) clotted cream
golden syrup
This is a Cornish pudding which delighted us in childhood.
Plenty of long-grain rice is boiled in water with a very little salt. When cooked every grain should be separate, and it should be piled on a large flat dish.
A helping is put on each plate and each person adds golden syrup (the lightning) and a lot of clotted (scalded) cream (the thunder).
©1975 The Estate of Elizabeth Ayrton