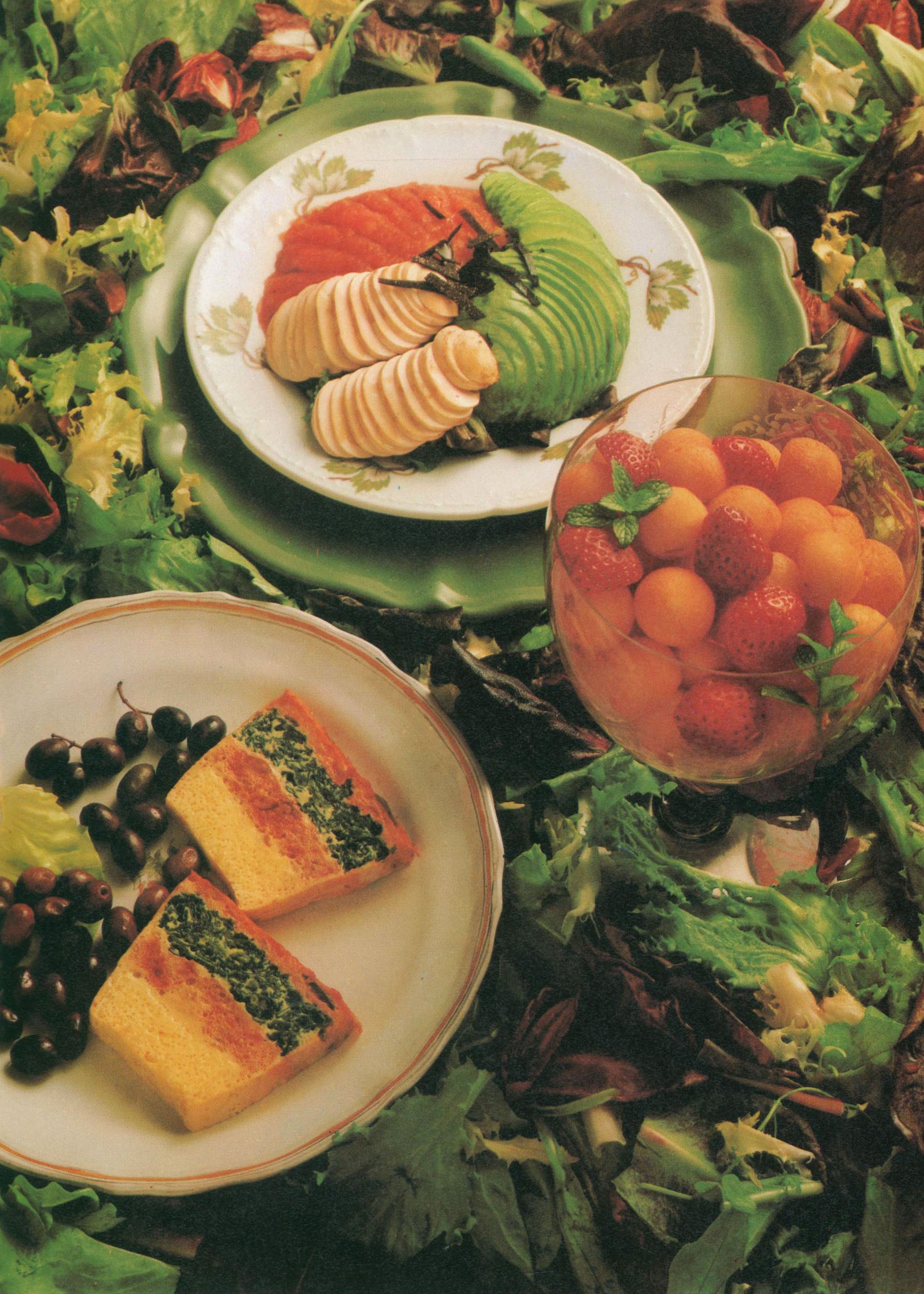 Ingredients
9 eggs
400 g (14 oz) very ripe tomatoes
500 g (18 oz) fresh spinach
75 g (2½ oz) grated Gruyère cheese
2 cloves of garlic
a pinch of thyme flowers
8 tablespoons whipping cream
8 tablespoons olive oil
nutmeg
salt, pepper
Equipment
A pâté dish or terrine 20 cm (8 inches) long or a round ovenproof cocotte or soufflé dish 20 cm (8 inches) across and at least 12 cm (5 inches) deep.
A bain-marie
Method
Preheat the oven to 120°C/250°F/Mark ½. Pick over the spinach and wash it thoroughly, changing the water three times. Drain it carefully. Plunge the tomatoes into boiling water for 2 seconds, then refresh under cold running water. Peel them, cut them in half and squeeze them to expel the seeds and juice. Chop them coarsely into dice. Peel the two cloves of garlic.
Heat 2 tablespoons of olive oil in a medium-sized saucepan until a blue haze rises. Add the chopped tomato together with the thyme and a pinch of salt and allow to cook until the moisture from the tomatoes has evaporated completely. Put 3 tablespoons of olive oil into a larger saucepan and heat until a blue haze rises, then add the spinach, the garlic and a pinch of salt. Stir with a wooden spoon and cook until the moisture has completely evaporated. When the tomatoes and spinach are cooked put them on 2 separate plates, remove the garlic from the spinach and allow to cool.
Get out 3 bowls and break three eggs into each. Add the spinach, 3 tablespoons cream, a grating of nutmeg and salt and pepper to the eggs in the first bowl and whisk everything together. Add the tomatoes, 2 tablespoons cream and salt and pepper to the eggs in the second bowl and whisk. Add the grated gruyere, 3 tablespoons cream and salt and pepper to the eggs in the third bowl and whisk.
Oil the inside of the terrine or other dish lavishly and pour in the tomato mixture. Stand the dish in a bain-marie half-filled with hot water and cook in the preheated oven for 15 minutes. Then, very gently, pour in the cheese mixture and return to the oven for a further 15 minutes. Finally pour in the spinach mixture and cook for 20 minutes more. When the omelette is cooked let it rest for 10–15 minutes in a warm place before turning it out on to a dish. Serve hot, cutting it into slices or wedges according to the shape of the dish it was cooked in.
Recommended wines
Dry white wines (white Graves, Saint-Véran, blanc de Cassis)