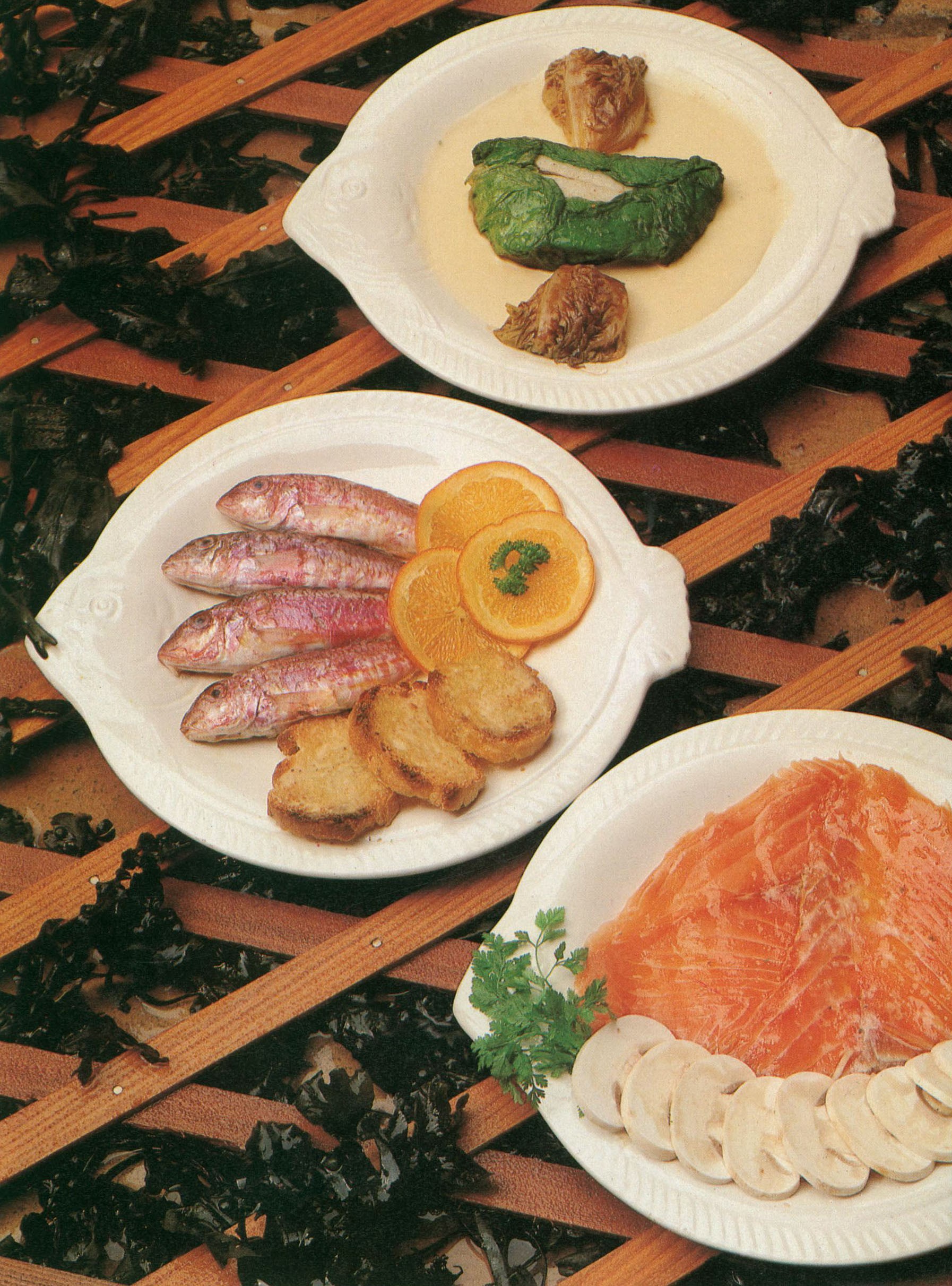 Extremely expensive
Ingredients
300–400 g (10½–14½ oz) very fresh tail-cut of salmon
200 g (7 oz) fresh white button mushrooms
1 tablespoon chopped parsley
10 handsome leaves of basil or 1 teaspoon chopped dill (or you can omit the herbs altogether and serve the salmon 'au nature')
5 tablespoons olive oil
juice of one-and-a-half lemons
fine salt, freshly-ground white pepper
Method
Ask your fishmonger to fillet a tail cut of salmon weighing 300–400 g. If he won't, scale the tail yourself and remove the fillets, cutting through the skin down either side of the backbone and then repeating on the stomach side. Remove any little bones from the base of the fins. Slice the fillets into very fine escalopes with a very sharp knife without cutting into the skin which is carefully removed. The slices should be as thin as smoked salmon.
Lay the slices flat on 2 chilled plates without allowing them to overlap. Sprinkle with the juice of a lemon, and season with fine salt, and several turns of the pepper-mill. Cut the basil leaves into fine strips and divide them between the two plates or scatter the dill over the salmon slices. Pour 1½ tablespoons olive oil over each plate. This step must not be carried out more than 30 minutes before the salmon is to be served.
Remove the stalks from 200 g (7 oz) button mushrooms, wash them well and cut them in fine slices. Put them in a bowl and season with salt, pepper, 2 tablespoons olive oil, the juice of half a lemon and 1 tablespoon chopped parsley. Just before serving, arrange a fan of the seasoned mushroom slices on each plate of salmon, or alternatively serve the mushrooms on a separate dish.
Recommended wines
dry white wines – Côtes du Rhône, Pouilly-Fuissé