Appears in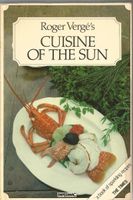 Ingredients
300 g (10½ oz) very ripe apricots – preferably the very small 'muscat' apricots. You can use tinned apricots, in which case use their syrup
Method
Take out the stones and purée the apricots in a liquidiser or with the finest blade of a mouli-légumes. Add the juice of the lemon. Beat in the sugar with a wire whisk.
Transfer the mixture to the ice-cream maker and freeze it.
To serve the sorbet, scoop it into balls with a spoon dipped in hot water and pile it into well-chilled ice-cream dishes.