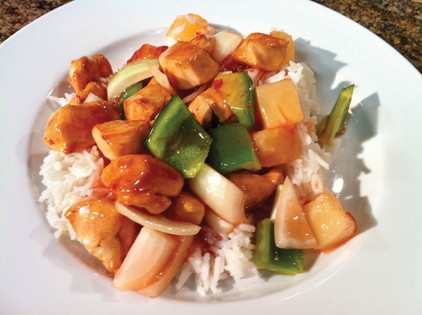 Appears in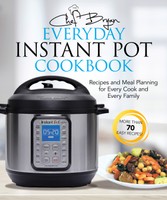 Ingredients
Olive oil
4 chicken breasts, cut into 1-inch pieces
1 cup chicken stock
2 large onions, sliced
1 bell pepper, cut into 1-inch pieces
1 bunch green onions, sliced
8-oz. can pineapple chunks, drained (reserve juice)
¾ cup sugar
½ cup red wine vinegar
2 tbsp. cornstarch (mix with reserved pineapple juice)
Salt and pepper to taste
Method
Select Sauté mode on the Instant Pot. Add just enough olive oil to lightly coat bottom of the pot.
Add the chicken pieces to the pot and sauté for 2 minutes, or until they have a little color on them.
Pour chicken stock into the Instant Pot and secure the lid. Pressure cook on high for 10 minutes. Use a quick steam release to release the pressure.
Once steam is released, remove lid. Add onion slices, bell pepper, green onions, pineapple chunks, sugar, red wine vinegar, and the cornstarch/pineapple juice mixture. Stir to incorporate everything.
Pressure cook on low for 5 minutes and use a quick-release method to release the pressure.
Season with salt and pepper to taste. Serve sweet-and-sour chicken mixture over rice. Use the Basic White Rice or Basic Brown Rice recipe.