Appears in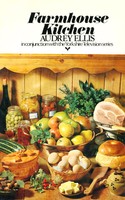 Ingredients
1 chicken, or boiling fowl
6 oz. butter
1 level teaspoon sugar
½ teaspoon peppercorns
½ teaspoon allspice
½ teaspoon cloves
1 peeled onion
1 dessertspoon worcestershire sauce
good pinch cayenne pepper
clarified butter
Clean the chicken, cut into joints, put into a casserole with the butter, sugar, peeled onion, and the whole spices tied in a muslin bag. Cover closely, if necessary using a strip of flour and water paste to seal the lid. Cook in a slow oven for 3 hours or until the meat is tender. Cool, strip meat from the bones, discard the spices, and put the meat through the fine blade of the mincer. Pound well together with the rest of the butter, sauce, cayenne pepper and, if liked, another pinch of sugar. Press into small pots and cover with clarified butter.
Many farms are close to the sea, and so it is not unusual to find fish or shellfish on the farmhouse menu. However, as they were not often available, treats like shrimps used sometimes to be preserved in the form of paste, or potted like this.
Potted shrimps: Peel 2 pints of cooked shrimps while they are still warm (or plunge into boiling water for 1 minute before shelling) and stir in 3 oz. melted butter, a grating of nutmeg and a shake of pepper. Press into small pots, and cover with clarified butter.