Appears in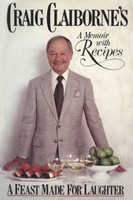 Ingredients
1½ pounds salt cod
¾ potatoes, freshly baked
1 cup heavy cream, at room temperature
¼ cup warm olive oil
½ teaspoon cayenne pepper, or to taste
3 large cloves garlic, finely chopped
1 truffle, sliced, optional
Method
Soak the salt cod in cold water for several hours, changing the water three times. Drain and cut it into 3-inch squares. Place the fish in a skillet and add cold water to cover. Bring to a boil and simmer not more than 8 minutes. Drain the cod and carefully remove the bones.
Slice the hot baked potatoes in half and scoop the flesh into the bowl of an electric mixer. Discard the potato skins. Start the mixer on low speed and add the cod. Continue beating while adding the cream and olive oil, a little at a time. (The oil must be warm or it will not homogenize properly.)
Add the cayenne pepper and garlic and finish whipping briefly on high speed. The mixture should have the consistency of creamy mashed potatoes. The brandade should be served lukewarm, garnished with slices of truffle, if desired. Serve with toast triangles fried in butter.