Appears in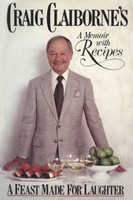 Ingredients
36 littleneck clams
2 tablespoons finely chopped shallots
½ cup dry white wine
Freshly ground pepper
3 tablespoons butter
3 tablespoons flour
2 tablespoons Pernod, Ricard, or other anise-flavored liqueur
2 egg yolks
3 tablespoons heavy cream
4 teaspoons finely chopped fresh parsley
1 tablespoon finely chopped fresh tarragon, or half the amount dried
A few drops Tabasco sauce
18 blini
Method
Open the clams or have them opened. Save the clams and liquid in separate batches. There should be about 1¼ cups clams and 1¾ cups clam liquid. Chop the clams coarsely and set aside. Do not chop the clams too fine.
Add the chopped shallots and wine to a small skillet and cook down until almost all the wine has evaporated. Add the clam liquid. Add a generous amount of pepper and bring to the boil.
Blend the butter and flour until smooth.
Remove the saucepan from the heat and gradually add the butter-flour mixture, a little at a time, stirring constantly with a wire whisk. When thickened, add 1 tablespoon of the Pernod and return to the heat.
Blend the yolks and cream and add gradually to the sauce, stirring constantly. Do not boil or the eggs will curdle. You must heat it, however, so that the yolks lose their raw taste.
Add the parsley and tarragon. Add Tabasco, remaining Pernod, and pepper to taste.
Add the clams and heat without boiling. The more the clams cook the more they toughen.
Serve 3 blini on each of six plates and spoon equal portions of the clams in sauce over them.