Appears in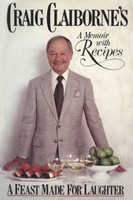 Ingredients
1 turkey carcass
1 cup ½-inch cubes leftover cooked turkey meat, optional
16 cups water
Leftover giblet gravy, if any
1 cup coarsely chopped onion
1 bay leaf
Salt and freshly ground pepper to taste
2 whole cloves
4 sprigs fresh parsley
2 sprigs fresh thyme, or ½ teaspoon dried
3 whole carrots, trimmed and scraped
3 whole ribs celery, trimmed and scraped
½ cup broken vermicelli, cappelini, or spaghettini
Method
Pick over the carcass and reserve any tender morsels of meat. Use this, if desired, for the cup of meat indicated, adding more meat as necessary.
Place the carcass in a kettle and set the meat aside. Add to the kettle any jellied gravy that may have accumulated on the turkey platter.
Add the water to the kettle. Add the leftover giblet gravy if there is any. Add the onion, bay leaf, salt, pepper, cloves, parsley, thyme, carrots, and celery. Bring to the boil and simmer partially covered 1 hour, skimming the surface as necessary.
Strain the soup through a sieve lined with a clean kitchen towel or a double thickness of cheesecloth. Discard all the solids except the carrots and celery.
Pour about 2 cups of the soup into a saucepan and add the vermicelli. Cook until just tender.
Add this to the soup. Cut the carrots and celery into ½-inch cubes and add them. Add the 1 cup of cubed turkey meat. Bring to the boil. Serve piping hot.