Appears in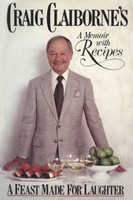 Ingredients
⅓ ounce dried morels
6 (½ pound each) veal chops
Salt and freshly ground pepper
14 tablespoons butter
2 tablespoons finely chopped shallots
Juice of ½ lemon
6 tablespoons dry white wine
1 cup heavy cream
1 tablespoon Madeira or dry sherry
¼ cup flour
1 cup chicken broth
Method
Place the morels in a mixing bowl and add hot (not boiling) water to cover. Let stand until cool. Drain well and pat dry.
Sprinkle chops with salt and pepper; set aside.
Heat 4 tablespoons of butter in a skillet and add the shallots. Cook briefly, stirring, and add the morels. Cook, shaking the skillet, about 3 minutes and add the lemon juice. Cover and cook about 5 minutes. Add 2 tablespoons white wine and cover. Simmer 5 minutes. Add the cream, cover, and cook over relatively high heat about 15 minutes. At this point the cream should be fairly well reduced and thickened. Add salt and pepper to taste and the Madeira wine. Swirl 2 tablespoons of butter into the sauce.
Dredge the chops in flour. Heat remaining 8 tablespoons of butter in a large skillet and add the chops. Cook over high heat about 5 minutes or until nicely browned on one side. Turn and cook about 15 minutes on the other side. Do not overcook, or the chops will dry out.
Remove the chops to a warm serving platter. Pour off most of the fat. Add remaining 4 tablespoons white wine and cook briefly. Add the chicken broth and cook over relatively high heat until reduced to about ¼ cup. Return the chops to the skillet. Spoon and scrape the morels over all. Stir. Serve the chops with the morels in sauce spooned over.