Appears in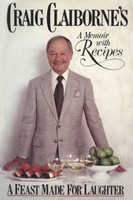 Ingredients
1 (4-pound) breast of veal
1 pound spinach
1 pound ground pork
½ pound mushrooms
2 cups chopped onion
2 cloves garlic, chopped 6 shallots, chopped
2 bay leaves, chopped
½ teaspoon dried thyme
2 eggs
Salt and freshly ground pepper
4 slices white bread, made into bread crumbs
Peanut oil
1 carrot, scraped and chopped
3 sprigs fresh parsley, chopped
1 sprigs fresh rosemary, optional, or ½ teaspoon dried and chopped
1 rip celery, coarsely chopped
1 to 2 cups water
Method
Have the butcher trim the veal breast and reserve the bones. Have him slit a pocket in the veal.
Trim and rinse the spinach and cook briefly in boiling water to cover. Drain and press well.
Heat the oven to 400 degrees.
Grind the spinach, pork, mushrooms, half the onion, half the garlic, shallots, half the bay leaves, and half the thyme together. In a mixing bowl, combine the mixture with the eggs, salt, pepper, and bread crumbs. Mix with the hands and stuff the veal breast. Sew up the opening. Sprinkle with salt and pepper. Brush with oil.
Line a large roasting pan with veal bones and place the stuffed veal breast on them, boned side up. Scatter the remaining onion, garlic, bay leaf, thyme, carrot, parsley, rosemary, and celery over the veal. Reduce the oven heat to 350 degrees and cook the veal 30 minutes.
Turn breast to other side. Baste frequently. Cook 1½ hours and pour off fat.
Add 1 cup of water and cover with aluminum foil. Continue cooking approximately 1 hour longer, adding water if necessary. Remove aluminum foil for the last 15 minutes of cooking.
Transfer the meat to a serving platter and remove string. Strain the sauce from pan and heat. Serve separately with sliced veal.