Appears in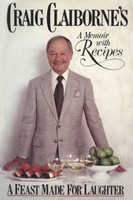 Ingredients
2 cups chopped fresh parsley (stems removed)
2 cups diced celery
½ cup water
2 pounds ground veal
1 to 2 tablespoons black peppercorns, crushed with mortar and pestle
1 egg, beaten
2½ teaspoons salt
¾ cup (about 2 slices) soft bread crumbs
Butter for greasing pan or mold
Method
Preheat the oven to 300 degrees.
Blend the parsley with celery and water in a food processor or blender until fine. Add mixture to veal. Add pepper, egg, salt, and crumbs. Mix well.
Turn mixture into a greased 9 × 5 × 3-inch loaf pan or a greased 1-quart gelatin mold. Bake 2 hours, or until meat shrinks from sides of pan. Serve with tomato sauce.