Appears in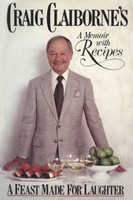 Ingredients
½ pound thinly sliced veal steak
Salt and freshly ground pepper to taste
Oil for brushing meat
1 teaspoon butter
Lemon wedge
Method
The crucial elements in cooking this dish are speed and high heat. Ideally, the paillard should be cooked on a hot grill, but a very hot skillet will do.
Place the veal between sheets of plastic wrap and pound it with a flat mallet until it is about ¼ inch thick.
Sprinkle the meat with salt and pepper and brush with about 1 tablespoon of oil on both sides.
Meanwhile, if a grill is to be used, fire it well. It must have an intense heat. Or heat a heavy iron skillet large enough to hold the meat so that it will cook quickly and evenly. The skillet must be very hot.
If a grill is used, place the steak diagonally on the grill and cook it about 10 seconds on one side. Give it a half turn on the grill (on the same side) in order to give it a diamond pattern. Cook 10 seconds and turn the meat over. Cook 10 seconds and give it a half turn to make a pattern on the other side. Cook 10 seconds.
If a skillet is used, add the meat when the skillet is very hot and cook about 30 seconds. Turn the meat over and cook 15 seconds on the other side.
Place the meat on a hot plate and rub the butter over it. Serve with the lemon wedge.