Appears in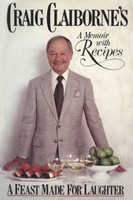 Ingredients
1 (4½- to 12- pound) 2- to 4- rib roast of beef short ribs removed Flour
Salt and freshly ground pepper
Method
Remove the roast from the refrigerator 2½ to 4 hours before cooking.
Preheat the oven to 500 degrees.
Place the roast in an open shallow roasting pan, fat side up. Sprinkle with a little flour and rub the flour into the fat lightly. Season with salt and pepper.
Put the roast in the preheated oven and roast according to the roasting chart, timing exactly. When cooking time is finished, turn off the oven. Do not open the door at any time.
Allow the roast to remain in the oven until oven is lukewarm, or about 2 hours. The roast will have a crunchy brown outside and an internal heat that will be suitable for serving as long as 4 hours.