Appears in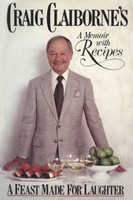 Ingredients
3 pounds veal bones, cracked
1 cup coarsely chopped celery with a few leaves
½ teaspoon thyme
1 cup thinly sliced carrots
1½ cups coarsely chopped onion
16 cups water
16 parsley stems tied in a bundle with 1 bay leaf
16 peppercorns, crushed
Method
Preheat the oven to 400 degrees.
Arrange the bones in one layer over a baking dish (a dish that measures about 18×12×2½ inches is suitable). Place the dish on the floor of the oven and bake for about 20 minutes, or until bones start to take on color. Stir to redistribute them.
Bake for 10 minutes longer and scatter the celery, thyme, carrots, and onion over the bones. Continue baking for 15 minutes, or until the bones are nicely browned.
Remove the pan and spoon and scrape the bones and vegetables into a kettle. Pour off any fat that may have accumulated in the pan, but do not wash it.
Add to the pan 2 cups of the water and stir to dissolve the brown particles that cling to the bottom and sides of the pan. Add this to the bones. Add the remaining 14 cups of water and the parsley bundle with bay leaf and peppercorns. Bring to the boil and simmer for about 5 hours. Skim the surface of scum and fat as it accumulates.
Strain the sauce. There should be about 5 cups. Chill. Scrape off the surface fat. Return the sauce to a saucepan and bring to the boil. Cook for about 45 minutes or until reduced to about 3 cups.