Appears in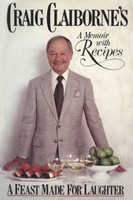 Ingredients
1¼ pounds skinned and boned fillets of salmon
7 teaspoons butter
2 teaspoons finely chopped shallots
¼ cup dry vermouth
½ cup dry white wine
1 cup fresh fish broth or clam broth
1 cup heavy cream
1 tablespoon flour
2 teaspoons finely chopped fresh sorrel
Salt and freshly ground pepper
Juice of ½ lemon
Method
Place the salmon fillets on a flat surface and cut on the bias, against the grain, into 8 slices of equal weight.
Place the slices between sheets of freezer paper and pound with a flat mallet to make thin steaks about the thickness of veal scaloppine.
Melt 3 teaspoons butter in a saucepan and add the shallots. Cook briefly and add the vermouth and wine. Cook until reduced by half and add the fish broth. Cook about 5 minutes and strain the liquid, using a fine sieve and pushing the solids with the back of a wooden spoon to extract their juices. Discard the solids.
Add the cream to the juices and simmer about 5 minutes.
Blend 1 teaspoon of butter with the flour and add this bit by bit to the sauce, stirring. Add the chopped sorrel, salt and pepper to taste, and lemon juice.
Swirl in the remaining 3 teaspoons of butter. Do not boil, but keep hot while cooking the salmon.
Use a nonstick pan to cook the salmon. Do not add fat. Place the salmon pieces in the pan and cook until delicately golden on one side about 30 seconds. Turn and cook on the other about 15 to 30 seconds. Do not overcook or the salmon will have a dry texture.
Spoon equal portions of the sauce in the center of eight hot plates. Place 1 piece of the cooked salmon in the center of the sauce and serve.