Appears in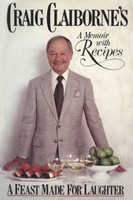 Ingredients
2 skinless, boneless (each weighing about 1½ pounds) salmon fillets, preferably center cut
4 teaspoons butter
2 teaspoons finely chopped onion
2 tablespoons finely chopped shallots
Salt and freshly ground pepper to taste
¾ pound fresh mushrooms, thinly sliced
¼ cup finely chopped fresh dill
2 cups dry white wine
3 teaspoons flour
⅛ teaspoon cayenne pepper
3 teaspoons lemon juice
5 egg yolks
Method
Preheat the oven to 400 degrees. Using a sharp knife, cut each fillet, one at a time, on the bias into slices about ⅓ inch thick. Each fillet should produce about 12 slices. Select a heatproof rectangular baking dish. It should be just large enough to hold two rows of slightly overlapping slices (a dish measuring 13½ × 8½ × 2 inches is appropriate). Rub the bottom of the dish with 2 tablespoons butter and sprinkle with onion, shallots, salt, and pepper. Arrange two parallel rows of salmon slices, the slices slightly overlapping, over the onion and shallots. Sprinkle with salt to taste. Sprinkle somewhat liberally with pepper. Scatter the mushrooms over the salmon.
Sprinkle the mushrooms with fresh dill and pour the wine over all. Cover with aluminum foil and bring to the boil on top of the stove. Place the dish in the oven and bake 15 minutes.
Remove the dish, uncover, and pour any accumulated liquid into a saucepan. Carefully spoon off most of the mushrooms and transfer them to another dish. Bring the cooking liquid to the boil over high heat. Tilt the dish containing the salmon. More liquid will accumulate as it stands. Spoon or pour this liquid into the saucepan containing the cooking liquid.
For the velouté, melt 2 tablespoons butter in a saucepan and stir in the flour, using a wire whisk. When blended, add the cooking liquid, stirring rapidly with the whisk. Cook about 5 minutes, stirring often. Add the mushrooms and continue cooking about 20 minutes, adding any liquid that accumulates around the salmon. Add the cayenne pepper and lemon juice. Beat the yolks with a whisk and scrape them into the mushrooms, stirring vigorously. Cook about 30 seconds, stirring, and remove from the heat. Add salt and a generous amount of pepper to taste.
Spoon and scrape this mushroom sauce—it should be quite thick —over the salmon. Using a spatula, cover the salmon with an even layer of the sauce but try to avoid having it spill over the sides of the salmon.
Let the sauce-covered salmon cool. Grease a neat rectangle of waxed paper with butter. Arrange this, buttered side down, on the sauce-covered salmon and refrigerate until thoroughly cold.