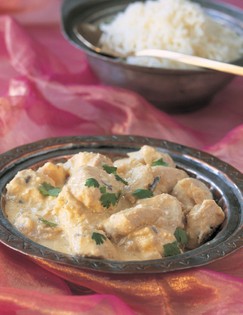 Appears in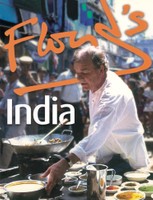 Ingredients
1 kg/2¼ lb boneless chicken morsels
salt
lemon juice
100 g/4 oz unsalted cashew nuts
milk
225 g/8 oz red onions, peeled
ghee or butter
7.5 cm/3 inch cinnamon stick, broken into flakes
4 or 5 green cardamom pods, crushed
3 or 4 whole cloves
3 or 4 cloves of garlic, peeled and puréed
4 cm/1½ inch piece of root ginger, peeled and puréed
1 cup natural yoghurt, thoroughly whisked with 2 tablespoons cold water or, better still, whizzed up in the blender with 2 ice cubes
a very generous pinch of saffron threads (preferable to powder wherever possible)
½ cup double cream
chopped fresh coriander leaves, to garnish
Method
Put the chicken in a dish, sprinkle with salt and lemon juice and leave to marinate for 1 hour. Meanwhile, put the cashew nuts in a bowl, pour in enough milk to cover and leave to soak for 1 hour, then transfer to a food processor or blender and purée.
Boil the onions until tender, drain and purée in a food processor or blender.
Heat some ghee or butter in a pan and sauté the cinnamon, cardamom pods and cloves for 1-2 minutes, then add the puréed garlic, ginger and onions and stir-fry until the onions turn slightly golden.
Reduce the heat and stir in the whipped or blended yoghurt and the saffron.
Add the chicken pieces and simmer gently for 5-10 minutes. Stir in the cashew nut purée and mix well. Continue cooking gently until the chicken is tender.
Stir in the double cream, garnish with chopped coriander leaves and serve.