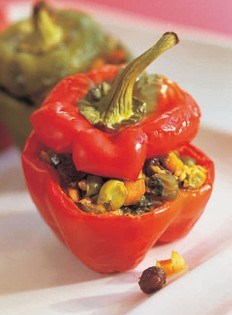 Appears in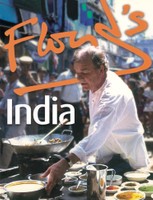 Ingredients
4 red or green peppers of a uniform size
vegetable oil or ghee
Method
Slice the top off each pepper and reserve the top for a lid. Remove the pith and seeds.
Heat some oil or ghee, add the cumin seeds for the masala and fry until they crackle. Stir in the rest of the masala ingredients, adding salt to taste, and cook for a moment to release the flavours.
Add the vegetables for the stuffing and stir-fry until the oil separates. Remove from the heat and allow to cool.
Once the vegetables and masala are cool, add the cashew nuts, raisins or sultanas, coriander and cottage cheese.
Stuff the peppers with the mixture and replace the lids. Brush the peppers with oil and bake in a hot oven for about 15 minutes, depending on the size of the pepper. Alternatively, cook them under the grill or thread them on to skewers and place in a tandoor oven until the peppers are cooked.