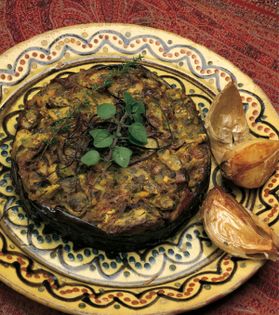 Ingredients
8 purple Chinese eggplants (about 2½ pounds/1.1 kg), or 2½ pounds/1.1 kg Italian eggplants*
½ cup (120 ml) oil, butter, or ghee*
2 large onions, peeled and thinly sliced
4 cloves garlic, peeled and thinly sliced
4 eggs
1 cup (85 g) chopped fresh parsley or mint
1 teaspoon turmeric
1 tablespoon fresh lime juice
1 teaspoon baking powder
1 tablespoon all-purpose flour
1 tablespoon plain bread crumbs
1½ teaspoons sea salt
½ teaspoon freshly ground black pepper
Method
Peel and thinly slice the Chinese eggplants, a mandolin slicer is a useful tool (if using Italian eggplants, see note).
Preheat oven to 400°F (200°C).
In a wide skillet, heat 2 tablespoons oil over medium heat. Add the onion, garlic, and eggplant, and stir-fry for 5 to 10 minutes until lightly brown. Allow to cool.
Break the eggs into a mixing bowl. Add parsley, turmeric, lime juice, baking powder, flour, bread crumbs, salt, and pepper, and beat lightly with a fork. Add the eggplant mixture and fold gently using a rubber spatula (do not overmix).
Pour 6 tablespoons oil in an 8-in/20cm ovenproof baking dish, and heat in the oven for 5 minutes. Pour in the egg mixture and bake uncovered for 20 to 30 minutes, until lightly golden on top and a tester comes out clean.
Remove from the oven and serve it directly from the baking dish, or place it on a wet towel and cover with a serving platter. Allow to rest for 10 minutes (this helps to unmold the kuku more easily). Loosen the edges with a knife and invert onto the serving platter (tap the bottom of the dish and allow to sit a moment before removing). Serve with flat bread, fresh herbs, and yogurt. Nush-e Jan!