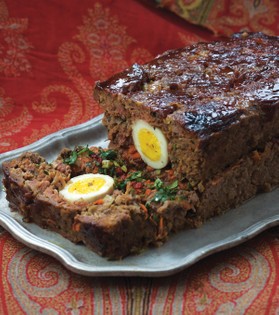 Ingredients
Meatloaf
2 tablespoons oil, butter, or ghee*
2 large onions, peeled and thinly sliced
2 cloves garlic, peeled and chopped
2½ pounds (1.1 kg) ground lamb (or beef, turkey thighs, or fillets of fish)
1 large Fuji apple, coarsely grated
¼ cup (60 g) tomato paste
½ cup (40 g) chopped fresh tarragon
¼ cup (20 g) chopped fresh parsley
2 tablespoons cumin powder
1 teaspoon ground cinnamon
1 teaspoon cayenne
2½ teaspoons sea salt
1 teaspoon fresh ground pepper
1 teaspoon turmeric
½ teaspoon baking soda
2 eggs, lightly beaten
½ cup (30 g) plain bread crumbs
Method
Preheat the oven to 400°F (200°C).
To make the meatloaf: Heat 2 tablespoons oil in a skillet and sauté the onions and garlic until golden. Remove from heat and allow to cool.
In a large mixing bowl, combine the cool, sautéd onions and garlic and the rest of the ingredients for the meatloaf. Use 2 forks to mix the ingredients until you have a light paste (do not overmix).
In a rimmed baking sheet lined with parchment paper, spread half of the meat paste in the center and pack the sides to form a 6-by-9-in/15x23cm rectangle. Sprinkle even layers of parsley, carrots, and barberries on top. Arrange the hard-boiled eggs lengthwise on top of the layer of barberries and press down slightly.
Place the remaining meat paste on top and pack down to achieve a smooth and even rectangular log. Place it in the oven and bake for 50 minutes.
Meanwhile, to make the glaze: In a food processor, puree the barberries, grape molasses, and oil until you have a smooth paste.
Pull out the oven rack and spread the glaze evenly over the top of the meatloaf and smooth out. Push back into the oven and bake for 10 to 15 minutes longer or until a tester comes out clean.
Remove the meatloaf from the oven, place it on a cooling rack, and allow to sit for 10 minutes.
Use an offset spatula to transfer to a flat serving plate. Slice and serve with French fries, green beans, and salad (or herb platter, sabzi khordan). Nush-e Jan!