Appears in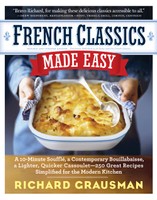 Ingredients
3 tablespoons butter
1½ pounds onions (5 to 6 medium), halved and thinly sliced
½ teaspoon salt
¼ teaspoon freshly ground pepper
2 tablespoons all-purpose flour
9 cups beef stock, homemade or canned (see chart), or water
1 tablespoon Cognac
½ pound Swiss-style cheese, such as Gruyère or Emmentaler, grated (about 2 cups)
Method
In a large saucepan or 5-quart Dutch oven, melt the butter. Add the onions and cook over medium-high heat, stirring occasionally, until well browned. They will start to brown in 10 to 12 minutes. After another 20 to 25 minutes the onions should be dark brown, not black. Season with the salt and pepper.
Reduce the heat to medium and stir in the flour. Brown lightly, stirring, about 3 minutes.
Add the stock, increase the heat to high, and bring to a boil, about 15 minutes. Reduce the heat to medium and simmer for 30 minutes. Skim off any foam or butter that comes to the surface. (The recipe can be prepared ahead to this point. Let cool to room temperature, cover, and refrigerate. Bring to a simmer before proceeding.)
Just before serving, add the Cognac. Pass the cheese separately.