Appears in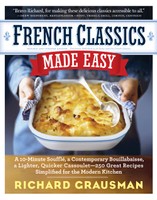 Ingredients
1 cup milk
3 egg yolks
3 tablespoons (40 g) sugar
2 tablespoons (15 g) cornstarch
1 teaspoon pure vanilla extract
Method
In a small saucepan, bring the milk to a boil over medium heat. Meanwhile, whisk the egg yolks and sugar together in a small bowl. Add the cornstarch to the egg-yolk mixture and mix well, until smooth and free of lumps.
When the milk boils, add it to the egg-yolk mixture and stir well. Return the mixture to the saucepan and whisk rapidly over high heat, whisking the bottom and the sides of the pan until the pastry cream thickens and boils, about 1 minute. Turning the pan as you whisk helps to easily reach all areas of the pan.
Reduce the heat to medium and cook an additional 1 minute, whisking as the pastry cream gently boils. It will become shiny and easier to stir.
Pour the pastry cream into a bowl and stir in the vanilla. Place plastic wrap directly on the surface of the pastry cream, and allow it to cool. Refrigerate or freeze if not using right away.