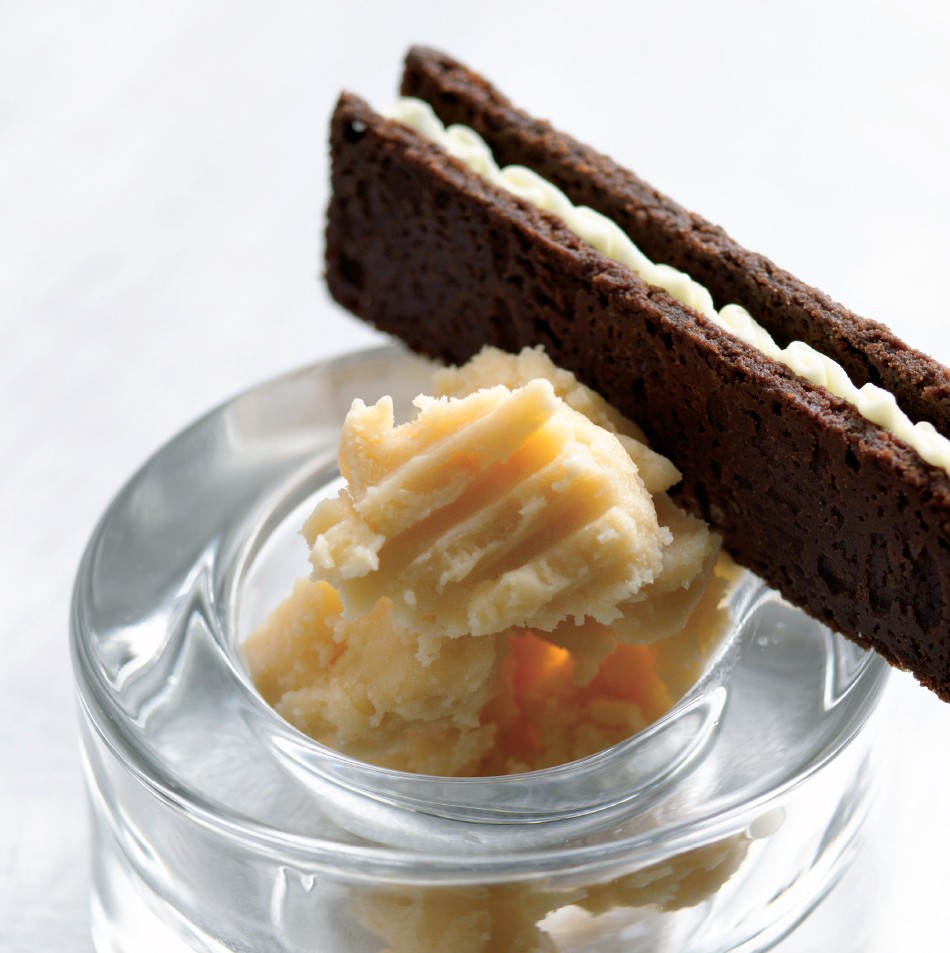 Ingredients
Cookies
361 g / 12.73 oz butter, at room temperature
363 g / 12.8 oz sugar
331 g / 11.68 oz flour
92 g / 3.25 oz cocoa powder
2 g / .07 oz baking powder
1 g / .03 oz salt
Cookie Filling
125 g / 4.4 oz heavy cream
375 g / 13.22 oz white chocolate, pistoles or chopped
Method
For the Cookies: Preheat a convection oven to 160°C / 325°F.
Cream the butter with sugar in a mixer using the paddle attachment for 3 minutes or until softened.
Meanwhile, sift the dry ingredients. Add them to creamed butter and mix until just combined. The mixture will form a ball.
Shape into a disc, wrap, and refrigerate for 1 hour. Roll out the dough to .3 cm / .13 in thick and freeze.
Cut out rectangles 2 cm / .75 in by 8 cm / 3 in, dock with a fork in a symmetrical pattern, and place on a sheet pan lined with parchment paper. Freeze for 10 minutes.
Bake for 7 to 8 minutes, or until the dough has no wet spots. Cool to room temperature and reserve.
For the Filling: Bring the heavy cream to a boil and pour over the chocolate. Stir until a homogenous mass is obtained.
When the filling has set (when it has cooled and is firm), pour it into a piping bag and pipe onto half of the shortbread cookies. Assemble the cookies by topping the filling with the remaining cookies.
Reserve in an airtight container at room temperature. Discard any leftover assembled cookies after service.