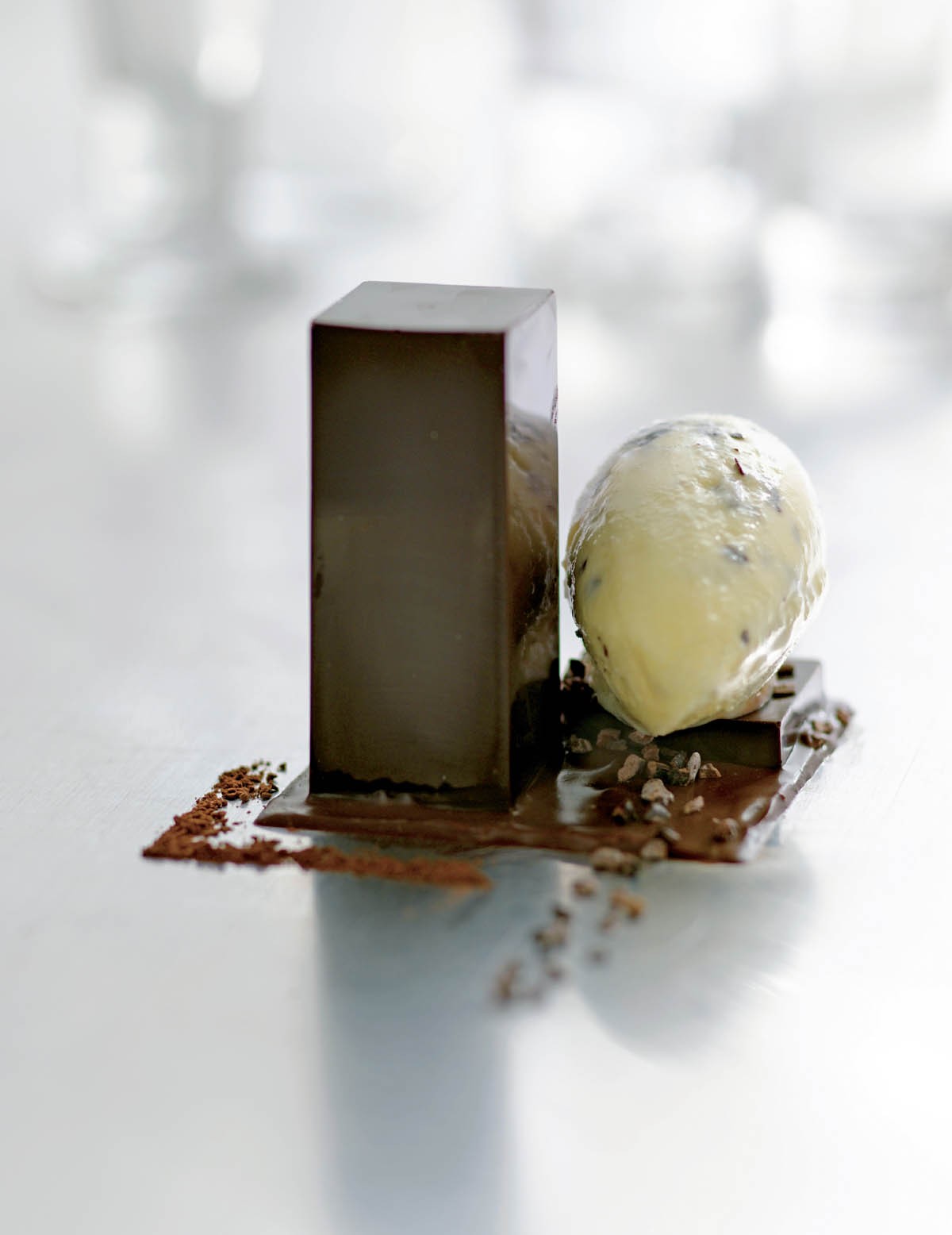 Ingredients
Chocolate Shells
500 g / 1 lb 1.64 oz tempered bitter chocolate (72%)
Smooth Ganache
91 g / 3.21 oz milk
91 g / 3.21 oz heavy cream
91 g / 3.21 oz trimoline
23 g / .81 oz water
205 g / 7.23 oz dark chocolate (72%), finely chopped
Milk Chocolate Mousse
112 g / 3.93 oz eggs
35 g / 1.23 oz sugar
166 g / 5.86 oz milk chocolate (40%)
188 g / 6.61 oz heavy cream
Method
For the Shells: Brush the inside of 10 rectangular plastic cubes (approximately 6.25 cm / 2.5in by 2.5 cm / 1 in by 2.5 cm / 1 in) with some of the chocolate. Make sure to get all of the corners to prevent air pockets.
Fill the cubes with the remaining chocolate. Tap the cubes vigorously to remove any air pockets. Let the chocolate sit for 1 minute.
Empty the chocolate out of the cubes, tapping any excess out, and place on a wire rack, open side facing down. It is crucial that the boxes have very thin walls so that they are easy to eat.
When the chocolate begins to set, scrape the "feet" off with an offset spatula. Let the chocolate set completely and extract it from the cubes by gently pulling it out with your fingers.
Reserve at room temperature.
For the Ganache: Bring the milk, cream, trimoline, and water to a boil. Pour over the chocolate. Mix with a beurre mixer until smooth, about 1 minute.
Pour into a piping bag. If not using right away, reserve in a closed container under refrigeration.
For the Milk Chocolate Mousse: Whip the eggs and sugar over a double boiler until the mixture is slightly thick and it reaches 60°C / 140°F. Do not exceed 63°C / 145°F because the eggs will start cooking. Let it cool until it reaches room temperature. Do not chill or refrigerate; it needs to be mixed with the chocolate, and if it is too cold the chocolate will set.
Melt the chocolate over a double boiler. Let it cool to 37°C / 100°F.
Whip the heavy cream to medium-stiff peaks, making sure it's not over- or under-whipped.
Whisk the chocolate into the egg mixture. Fold in the whipped cream in 2 additions. It will help maintain volume; if the cream is folded in all at once it won't be as light and airy.
Place the mousse in a piping bag and refrigerate. The mousse needs to be made right before it is needed so that it won't set. If it sets, it will be difficult to portion and it will lose volume in the process.
To Finish the Boxes: Pipe the ganache into the shells (about one-quarter full), then pipe the mousse on top of the ganache (about half full), then ganache again (about three-quarters full), then top off with the mousse. Smooth the mousse out with a small offset spatula so it is even with the top of the box.
Reserve covered and refrigerated until needed. Discard any leftover boxes after 2 days, since they will get damaged by condensation.