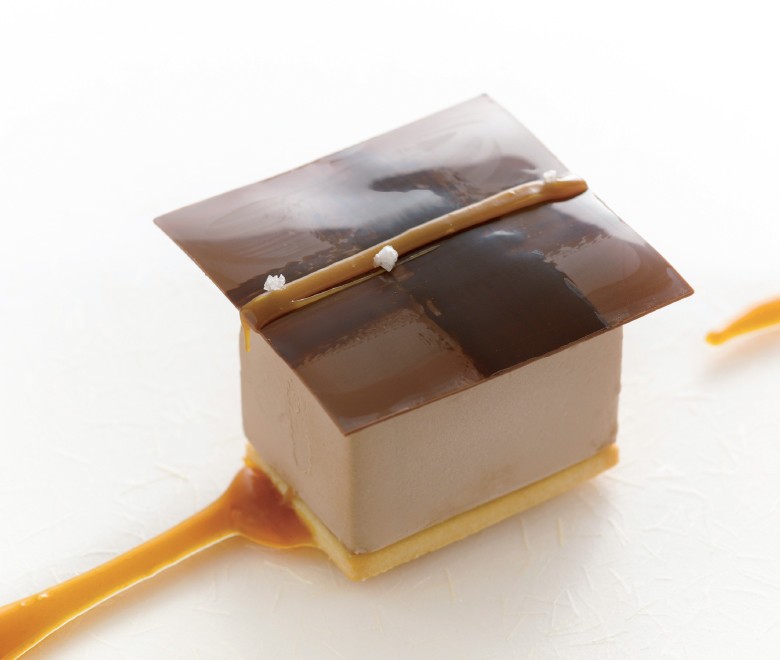 Preparation info
Yield 250 g / 8.82 oz about

40

Plaques
Ingredients
50 g / 1.76 oz tempered dark chocolate (64%)
200 g / 7.05 oz tempered milk chocolate (40%)
Method
Place a sheet of acetate on a marble surface.
Brush the dark chocolate on the acetate sheet in a grid pattern.
Pour the milk chocolate on the acetate sheet and spread it into a very thin layer using an offset spatula. Make sure it is thin. Thick chocolate garnishes aren't easy to cut through, and they don't look very good.
Lift the acetate and move it elsewhere on the marble so that the acetate won't stick to the marble from the excess on the borders.
When the chocolate is almost set, use a ruler to cut 6.75-cm / 2.75-in squares using the back of a paring knife (using the blade side will cut through the acetate, making it difficult to handle the chocolate squares). Transfer the acetate to a flat sheet pan lined with parchment paper, chocolate side facing down. Place another sheet pan or a few nonstick rubber mats on top of the chocolate to weigh it down so that the squares don't bow too much once they have set.
Reserve in a cool dry place at room temperature as they are (the acetate will protect them from getting scuffed).