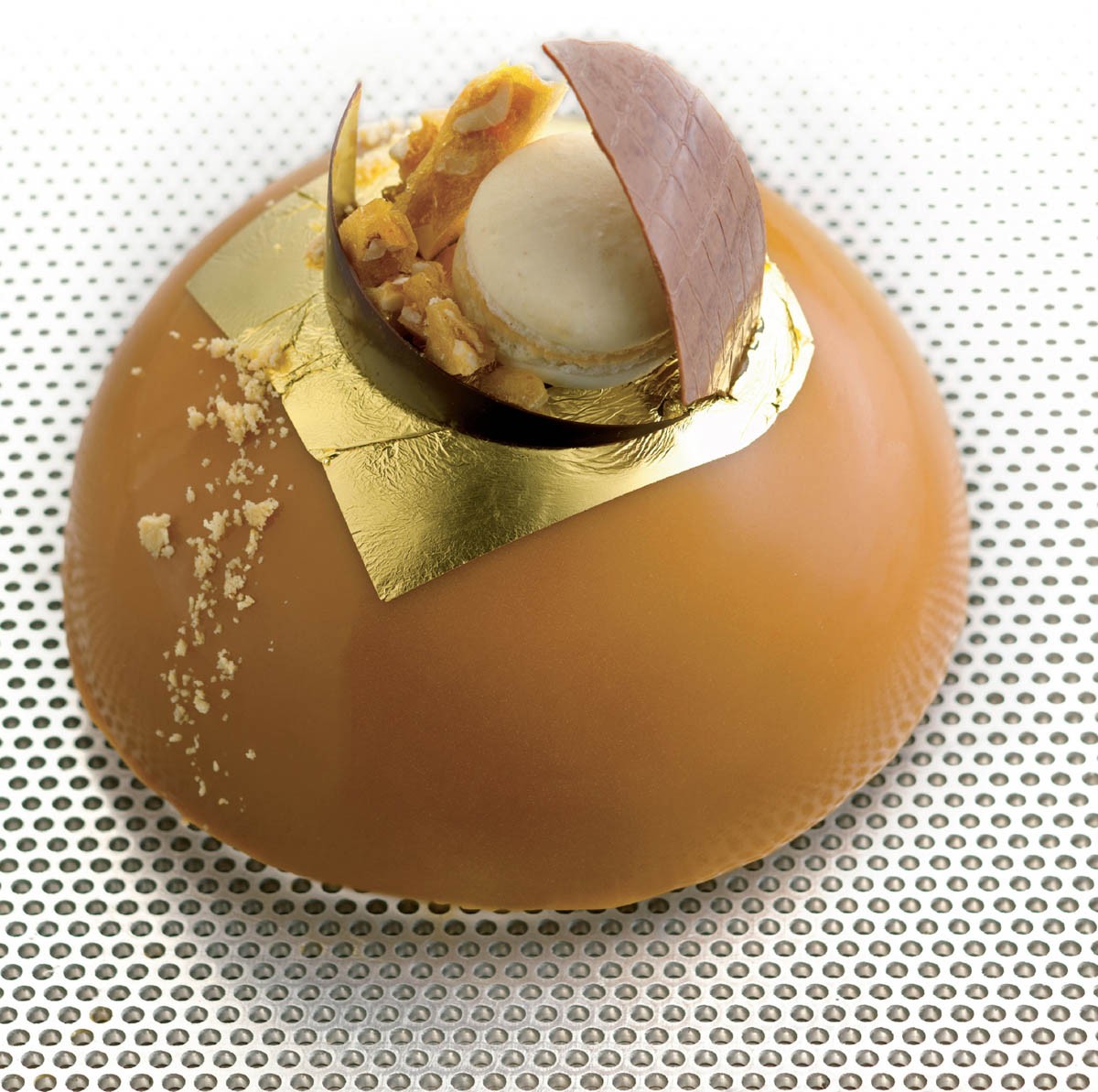 Preparation info
Yield about 44 Pieces

22

Finished Macarons
Ingredients
Macarons
423 g / 14.92 oz confectioners' sugar
232 g / 8.18 oz almond flour
240 g / 8.47 oz egg whites
105 g / 3.7 oz granulated sugar
Filling
200 g / 7.05 oz melted tempered dark chocolate (64%)
200 g / 7.05 oz peanut butter
Method
For the Macarons: Mix the confectioners' sugar and almond flour together in a food processor and sift into a large bowl. Make a French meringue with the egg whites and granulated sugar by adding about 10 percent of the sugar at the start of the mixing process and whipping the egg whites at high speed. Once the egg whites have quadrupled in volume, pour the remaining sugar in slowly down the side of the mixing bowl. Whip the meringue to just under stiff peaks.
Fold the meringue into the dry ingredients, making sure that the batter has no lumps and is smooth but not runny. If under-mixed, the surface of the macarons will be lumpy. If overmixed, the macaron batter will run too much after piping and will not hold a round shape.
Line 2 sheet pans with silicone paper or a nonstick rubber mat. Using a #5 straight tip, pipe the batter into circles with a diameter of about 5 cm / 2 in. The batter should run slightly, just enough that the surface is smooth.
Let the macarons dry for at least 30 minutes uncovered and at room temperature. This is what gives them their characteristic look. While they dry, preheat a deck oven to 225°C / 440°F.
Bake in the back of the oven, where it is hottest, for about 6 minutes with the vent open. Pull to the front of the oven for 1 to 2 minutes longer to keep a close eye on the macarons, to make sure that the structure of the macarons sets. Make sure that the insides of the macarons are not too wet, otherwise they will fall and lose their volume after being removed from the oven. They also may be underbaked to the point where they do not lift off of the silicone paper.
Let the macarons cool completely on the sheet pan before removing and filling.
Reserve in an airtight container at room temperature.
For the Filling and Assembly: Combine the chocolate and peanut butter in a bowl using a rubber spatula. Transfer to a piping bag.
Place 10 macarons facing up and pipe about 5 g / .18 oz of the filling on them. Place another macaron on top. Reserve in an airtight container at room temperature. If kept at room temperature, they can last for 2 days; if refrigerated, 5 days; if frozen, up to 1 month.