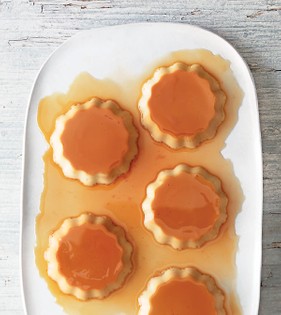 Appears in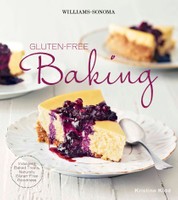 Ingredients
1½ cups (12 fl oz/375 ml) whole milk
½ cup (4 fl oz/125 ml) heavy cream
10 whole cardamom pods
6 whole cloves
4 quarter-size slices peeled fresh ginger
Three 2-inch (5-cm) cinnamon sticks
1 teaspoon fennel seeds
½ cup (4 oz/125 g) granulated sugar
2 large eggs plus 2 large egg yolks
½ cup (3½ oz/105 g) firmly packed brown sugar
Pinch of kosher salt
Method
In a heavy-bottomed saucepan over medium heat, bring the milk, cream, cardamom pods, cloves, ginger, cinnamon sticks, and fennel seeds to a simmer. Turn off the heat, cover the pan, and let steep for 20 minutes.
Meanwhile, preheat the oven to 350°F (180°C). Place six ⅔-cup (5-fl oz/160-ml) or ¾-cup (6-fl oz/180-ml) custard cups or ramekins in a large roasting pan. Set a fine-mesh sieve over a large glass measuring cup. Bring a kettle of water to a boil.
In another saucepan over low heat, stir together the granulated sugar and ¼ cup (2 fl oz/60 ml) water until the sugar dissolves. Raise the heat to medium-high and boil, without stirring, until the syrup turns deep amber color, occasionally swirling the mixture in the pan and brushing down the pan sides with a wet pastry brush, about 8 minutes. Immediately divide the syrup among the custard cups. Working quickly and using oven mitts, tilt the cups to coat the bottoms with syrup.
In a bowl, whisk together the eggs and egg yolks. Return the milk mixture to a simmer. Slowly add the hot milk mixture to the eggs, whisking constantly. Immediately pour the mixture into the sieve. Add the brown sugar and salt to the strained milk mixture and stir until the sugar dissolves.
Divide the custard among the cups and add enough hot water to the pan to come halfway up the sides of the cups.
Bake the custards until set but the centers jiggle when the cups are gently shaken, about 30 minutes. Using a metal spatula, transfer the ramekins to wire racks. Let the custards cool for about 1 hour. Cover and refrigerate for at least 3 hours or up to 2 days.
Run a small sharp knife around the edge of each cup to loosen the custard. Invert the custards onto a platter or plates, shaking gently to release, and serve cold.