Appears in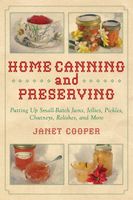 Ingredients
4 lbs. apples, any type
3 medium yellow or white onions
2½
Method
Peel, core, and dice the apples. Peel and finely chop the onions.
Add the vinegar, juice, ginger, allspice, nutmeg, cloves, and cayenne pepper. Mix well and cook, uncovered, at a simmer or until thick.
Add the brown sugar. Wash and squeeze dry the currants or raisins and add. Cook everything until desired thickness and seal in sterile jars.