Appears in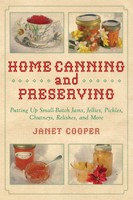 Ingredients
1 large head cauliflower
3 large yellow or white onions
¼ cup coarse salt
¾ cup cider or white vinegar
¾ cup water
¼ to ½ cup sugar, depending on desired sweetness
1 teaspoon mustard seed
½ teaspoon whole cloves
½ teaspoon turmeric
½ teaspoon celery seed
¼ teaspoon crushed, dry chilies, or more to taste
Method
Break the cauliflower into pieces and wash. Drain well. Peel, quarter, and slice the onions crosswise. Mix the vegetables with the salt and let stand, covered, overnight. Drain well and rinse thoroughly. Let stand in cold water for 30 minutes and drain thoroughly again.
Combine the vinegar, water, sugar, mustard seed, cloves, turmeric, celery seed, and chilies and simmer for 10 minutes, covered. Let steep overnight for added flavor.
Add the vegetables and boil until tender-crisp, about 5 to 10 minutes. Seal in sterile jars covered with syrup.